Over 1 million views from Facebook, LinkedIn, Instagram, and Twitter reached AdvancingX in the first 18 days after Career Astronaut applicant videos begin to surface. The views came from 38 countries with space enthusiasts focused on supporting STEM education, Team Research, and a chance to be selected to experience suborbital space flight. Now that "NASA plans to allow private citizens to fly to the International Space Station and wants to open the orbiting laboratory to more commercial interests…" (1) Career Astronauts could go to Low Earth Orbit (LEO) sooner than expected!
Career Astronauts are already participating in one of the world's largest human factors research programs. They are focused on optimal team design for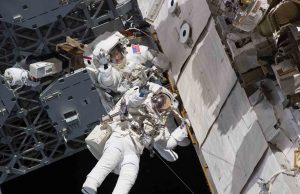 teams of astronauts planning to live and work in space. Career Astronaut Candidates are assigned to teams using high performance team algorithms and predictive analytics developed by AdvancingX. These algorithms are combined with advanced machine learning technology developed by BMC Software to rapidly advanced applications and ongoing development of the Organizational Team Index (OTI). The OTI was developed from peer-reviewed research and is already known for identifying the best possible teams with 95% confidence. It is also being adopted by start-ups in Australia, Europe and the United States to support a living diligence designed to increase start-up success. As AdvancingX continues to collaboratively work with partners around the globe, it's innovative team research will continue to accelerate as they combine the most advanced technologies from biosensors to human assist robotics.
For more information or to join the Career Astronaut Competition go to: www.AdvancingX.com/CareerAstronauts/
(1) Davenport, Christian (June, 2019), The Washington Post. https://www.washingtonpost.com/technology/2019/06/07/nasa-allow-private-citizens-fly-international-space-station/?noredirect=on&utm_term=.908dc492c364